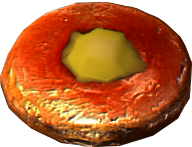 ​
I've recently found a lot of recipes that people have come up with in order to replicate food items found in Skyrim.
This guy's
come up with a lot of creative recipes for all of Talen-Jei's cocktails, an apple-cabbage stew, moonsugar and honey-nut treats. I've also seen
a sweetroll recipe
or two floating about. But despite all the great strides taken into the culinary world of Skyrim, I have yet to find a single attempt at even guessing what a boiled cream treat might be. And I have to say, its appearance does leave me confused.The dollop of yellow in the middle definitely looks like pastry cream, as the name of the confection suggests, but the reddish color of the base, as well as its layered texture leaves me stumped.​
​
Possible explanations:​
​
- a snowberry flavored doughnut with pastry cream pipped into its center​
​
- a puff pastry base topped with pastry cream​
​
- a large fluffy pancake with pastry cream on top​
​
- an oddly shaped mini bundt cake with pastry cream filling​
​
Any other ideas on it?​